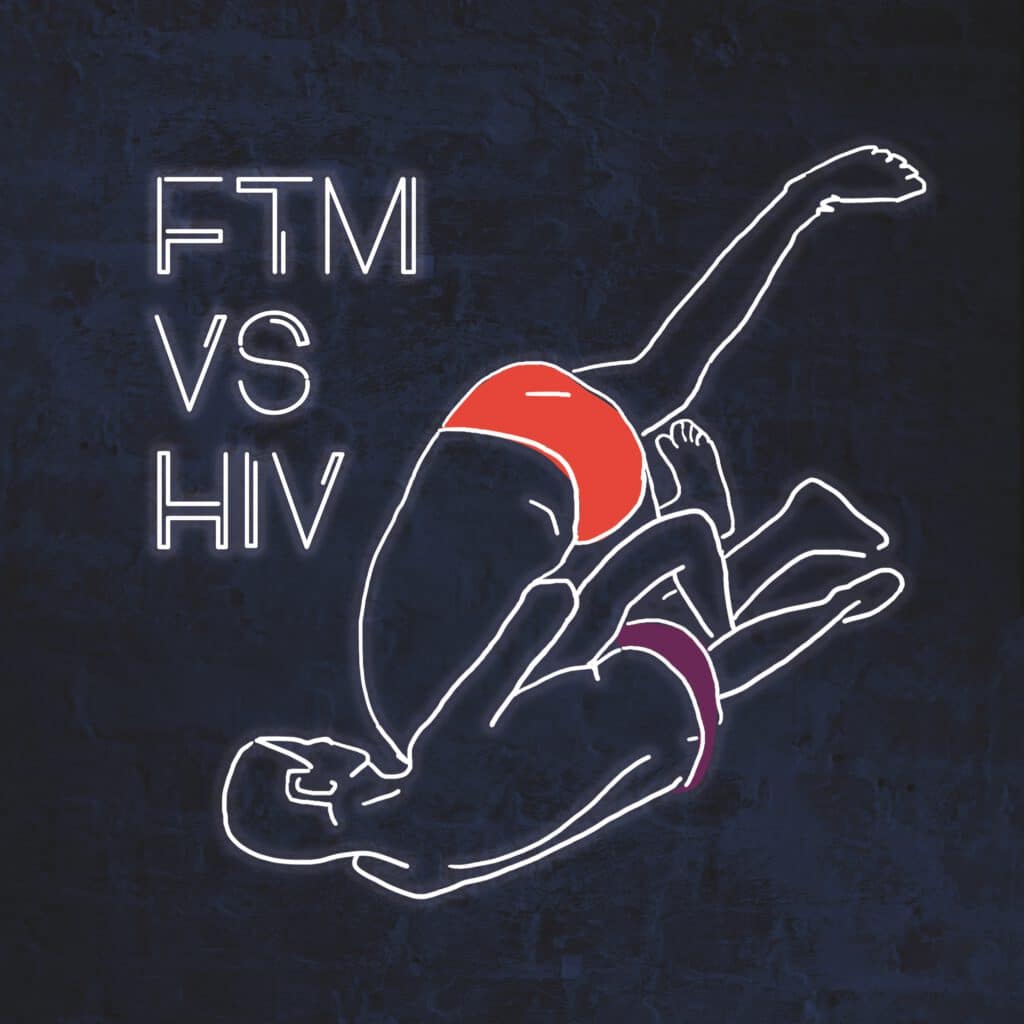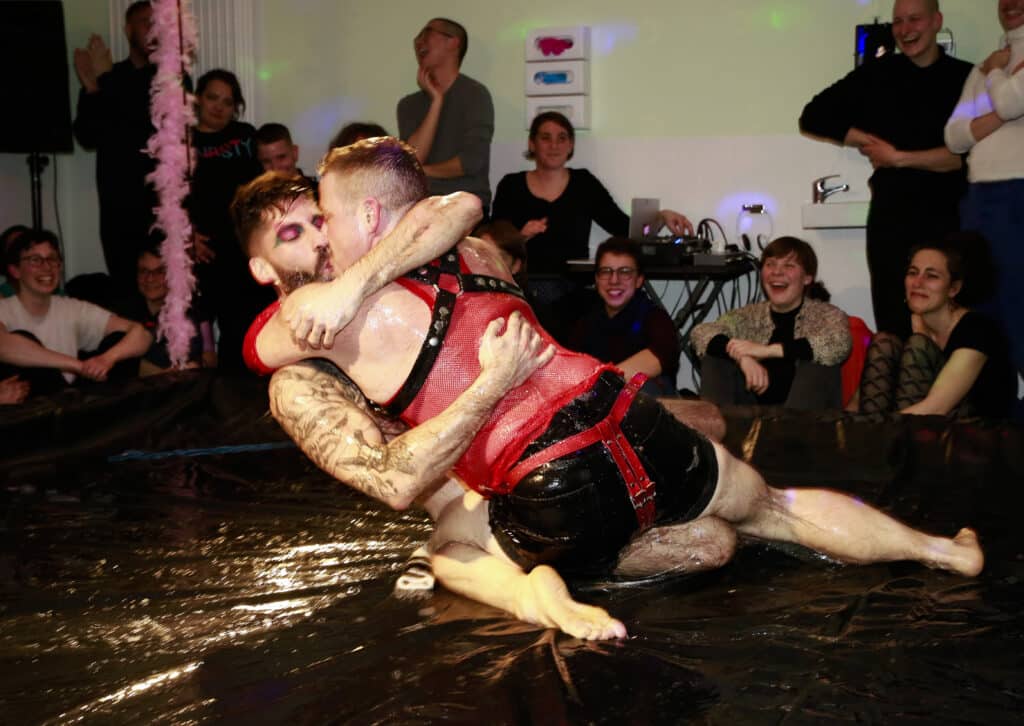 Wrestling showdown in a medical practice.
Facing off: Transition vs HIV. PrEP vs chlamydia. Stigma vs medical screening.
Trans & non-binary health in action and in practice.
Biopolitical power structures and discriminations specifically faced by FTM (female to male) and non-binary trans people playfully confronted each other in the wrestling ring and made everyday trans experiences tangible. Medical spaces and their powerful procedures were confidently claimed and appropriated. The ring became a queer space where visibility and self-empowerment are celebrated.
This exhibition documents a collaborative research process on trans and non-binary health which culminated in several wrestling performances in 2020. The entire diverse cast of performers, film crew, costume designers, artistic consultants, curators and childcare staff scripted and debated the characters and their complex relationships to one another for a long time. Knowledge sharing and learning regarding trans health care extended far beyond the wrestling match.
The exhibition features:
• Photography of the wrestling shows
• Artefacts of the art installation and the wrestling matches
• Drawings and notes from the collective process led by Giegold & Weiß

Artists: Alex Giegold and Tomka Weiß
Involved: 4 Angry Dykes, AK AIDS e.V., Alex/Lautaro Apolinario, Max Appenroth, Birgit Bosold, Denice Bourbon, Magz Barrawasser, Salty Cheri, Sir Damien, Yori Gagarim, Marek Sancho Höhne, Interflugs, Jamie Janicek, Kallia Kefala, Collin Klugbauer, Lotte Knold, Lane, m-50, Martina Kock, Kornelia Kugler, Martin Muz, Panda Ortmann, Praxisgemeinschaft Turmstraße, Mayan Printz, Laurette Rasch, Idán Sagiv Richter, Sylvia Sadzinski, Elliat Graney Saucke, Schwules Museum Berlin, Todd Sekuler, Senatsverwaltung für Kultur und Europa, SoundSysters, Jack Thompson, Trans*genderradio Berlin, Viola Vabulous, Alexa Vachon, Ajay Wanker, Arne Weiß, Helgard Weiß, Ulrich Weiß, Zara Zandieh.
Photography: Giegold & Weiß, Alexa Vachon
With kind support by: schwules museum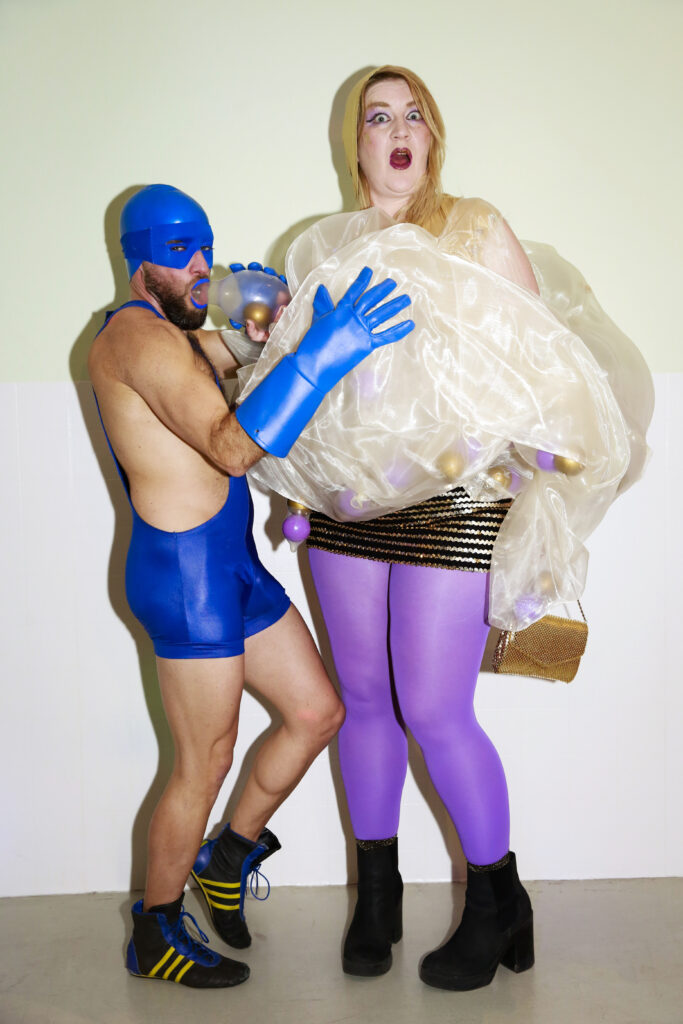 Checkpoint BLN
3rd floor
Hermannstraße 256-258
12049 Berlin
Phone: +49 30 40 36 46 10
Fax: +49 30 40 36 46 149
Opening hours
Monday–Friday 14:00–20:00
Test results
+49 30 40 36 46 122
Monday–Friday, 18:30–20:00