Chemsex Check
Chemsex is the use of libido-enhancing substances during sex. It especially refers to using "G" (GHB/GBL), "Tina" (crystal meth) and/or Mephedrone/3-MMC together at private parties in queer scenes.
If chemsex is a habit of yours, the Chemsex Check can help you weigh its pros and cons and define your personal boundaries, so that you'll have a good time while taking care of your health and reducing any risks – right now, as well as in the future.
Pick-up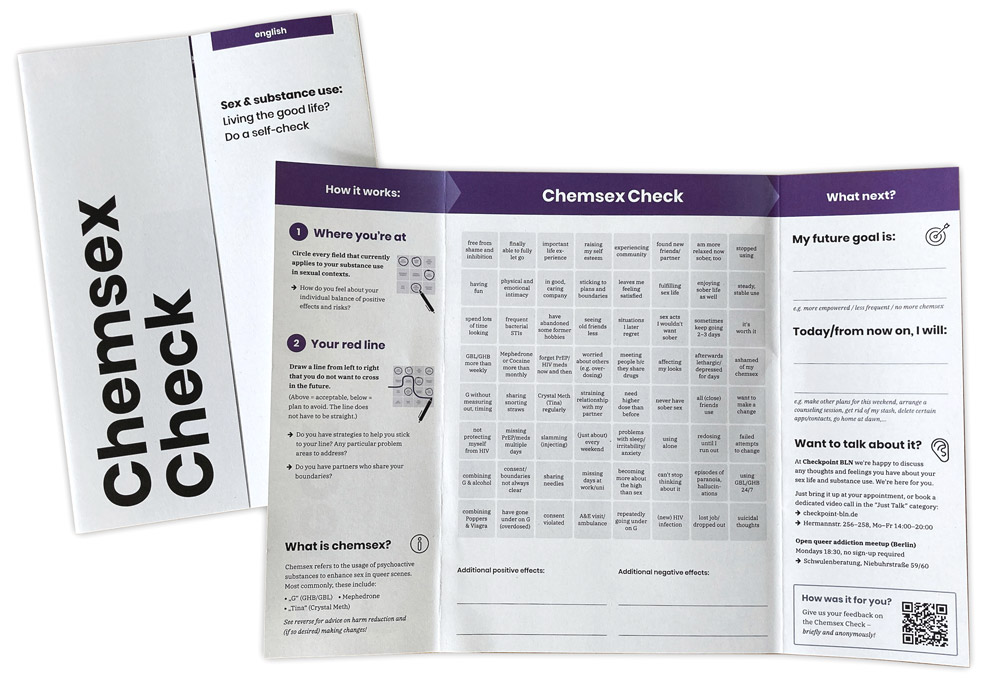 Just drop by and ask for the Chemsex Check at reception: Mon–Fri 14:00–20:00 (2pm–8pm)
Feedback/Inquiries
Please reach out via e-mail with any feedback or inquiries. Please note that we cannot provide individual counseling via email.
Checkpoint BLN
3rd floor
Hermannstraße 256-258
12049 Berlin
Phone: +49 30 40 36 46 10
Fax: +49 30 40 36 46 149
Opening hours
Monday–Friday 14:00–20:00
Test results
+49 30 40 36 46 122
Monday–Friday, 18:30–20:00