Chemsex Check
Chemsex is the use of libido-increasing substances during sex. It especially refers to people using "G" (GHB/GBL), "Tina" (crystal meth) and/or Mephedrone/3-MMC together at private parties in queer scenes.
If chemsex is a habit of yours, the Chemsex Check can help you weigh its pros and cons and define your personal boundaries, to ensure that you'll have a good time while taking care of your health and reducing any potential risks.
Pick-up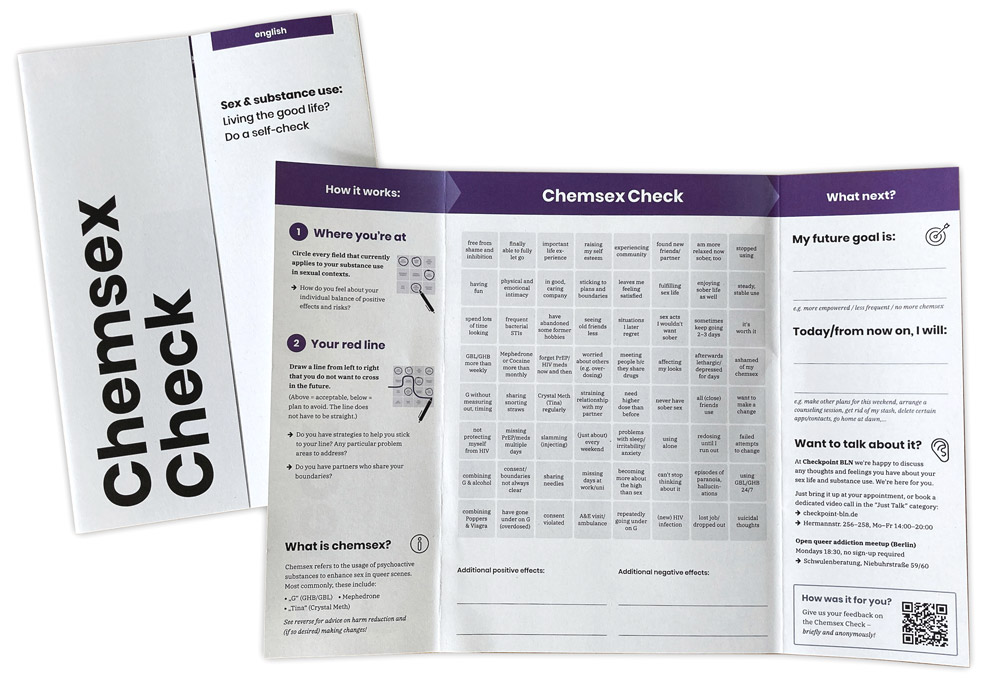 Just drop by and ask for the Chemsex Check at reception: Mon–Fri 14:00–20:00 (2pm–8pm)
Someone to talk to
Do you want to talk to someone about your chemsex? Book an appointment on our website in the "Just Talk" category. If you wish, we could go over your Chemsex Check together or set a goal to make a change. You won't be judged for your substance use, and your goal doesn't need to be abstinence.
You can find a list of further drug counseling services in Berlin on the website of sidekicks.berlin.
Feedback/Inquiries
Please reach out via e-mail with any feedback or inquiries. Please note that we cannot provide individual counseling via email.
Checkpoint BLN
3rd floor
Hermannstraße 256-258
12049 Berlin
Phone: +49 30 40 36 46 10
Fax: +49 30 40 36 46 149
Opening hours
Monday–Friday 14:00–20:00
Test results
+49 30 40 36 46 122
Monday–Friday, 18:30–20:00